Remember the blog party I told you about?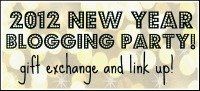 The one with Casey Wiegand and friends?  I was assigned Little Miss Nerd Girl and sent everything last week.  I got word that she received it yesterday, so now I can share what I sent.
Here's what she got:
1. Valentine's day wreath.  Checking out her Pinterest, I found a DIY wreath decoration she pinned.  And I just happened to grab this wreath when I was out shopping for some candlestick holders for another project.  So I spray painted it, tied on some ribbon, and added it to the box.
2. Starbucks gift card.  Lacey is a mother of three and a student.  I just figured she needed it.
3. Mace.  That sounds like the worst gift ever.  But if you read this post, it will make sense, I promise.
4. Treats for the kids.  I know that seems kind of unfair to send something for her kids, but truly this is for her.  Ellie doesn't eat a lot of junk food, but I use these fruit snacks for rewards, bribery, or times when I just need her to STOP TALKING.  I don't recommend parenting through food, but sometimes it's all I have left.  So these weapons can be used for some Mommy time or just some peace and quiet.
I'm excited for my package to arrive and I'll share that when it does.  I just love getting mail.  Except the bills part, I could do without that. 
I'm also working on one of my 2012 goals to write more letters this week (and "more" being anything other than zero since that's what I did last year).  I originally thought I didn't really have anyone to write a letter to, but it's amazing how many people there are once I start looking for reasons to write.  So more on that later.
Happy Monday!