1. Halloween: well, that was fun.  And I can happily say that we ran out of candy again this year.  I always think we got too much and then always run out.  I would share cute costume pictures if I had them, but mostly what I have is crying kids or fuzzy, blinking parents.  So I'm sharing those. 
Ellie was Curious George and Harper was The Man with the Yellow Hat but she refused to wear the hat.  Something to do with her mother accidentally snapping her face with the rubber band that held it on.  It was quite tragic.
2.  My co-workers and I paid tribute to a fellow teacher's mustache on Wednesday.  Everyone loves a good 'stache, right?  Well, I got the red one (go figure) and suddenly turned into the Lorax from the Dr. Seuss book.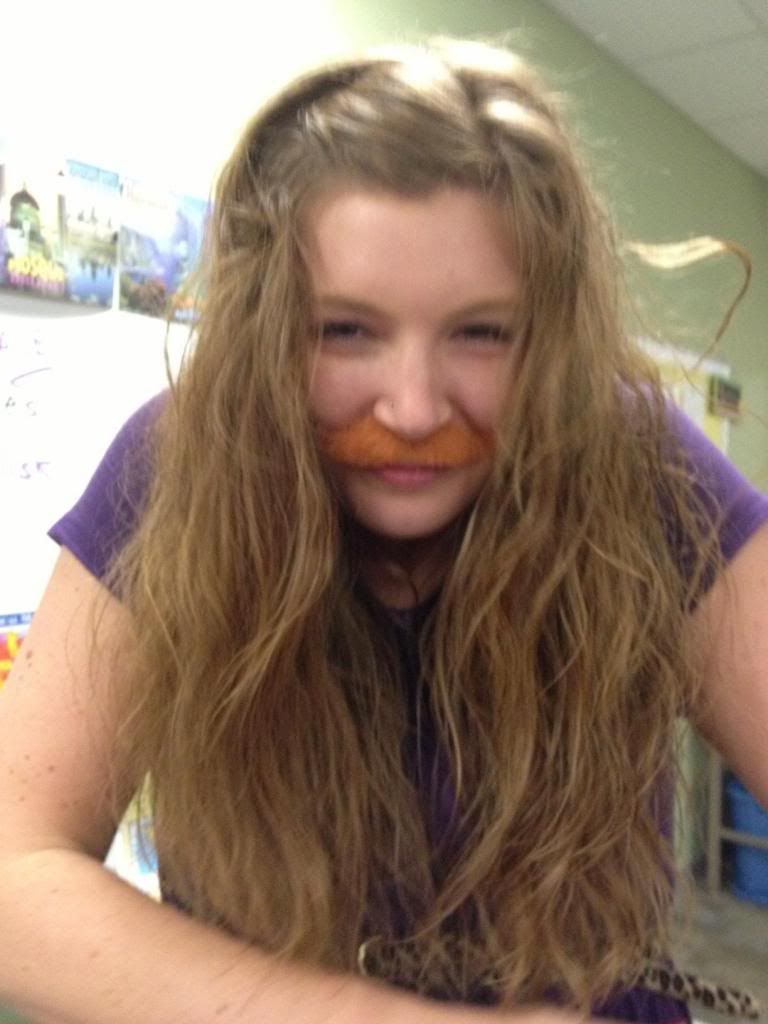 That one's going to haunt you for a while, huh?  Me too.
3.  Since it's Friday and no one's going to get any work done anyway, why don't you head on over to check out
my friend Brittany's blog
.  She's got this crazy goal of raising $1600 to buy four women out of bondage.  And when she reaches her goal, she's fulfilling her dream of dying her hair hot pink.  I can't wait to see what God does through this project and through Brittany.  And see her hot pink hair, of course. 
4.  Tonight Chris and I are heading to our friends' Jeremy and Renae's wedding.  Can I just tell you how excited I am?  Dressing up, being with friends, no kids, watching two people who have dated for fourteen years get married, and watching my cute husband do a reading are all things that are making this Friday just a little bit sweeter.
5.  Did you guys catch my giveaway from yesterday?  I'm honored to have you here and thought I'd show the love by giving away some sweet prizes.  So get in on that since you deserve it!
Have a great weekend guys and be blessed.
Linking up with High Five for Friday with From My Grey Desk.