I love reading other people's blogs.  Probably a little too much.  But whatever.
One blog I've read for a couple of months is Casey Wiegand, and just love her honesty, her point of view, and her heart.  You should definitely check her out.
Last week she announced she and some other bloggers were hosting a blog party where they hook you up with another blogger, you spend some time getting to know that person through their blog, and then you send them a little care package by a certain date.  It's like a super-cool, grownup chain mail without the threat of death.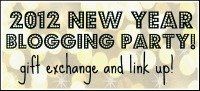 I got all excited and signed up right away.
It's a fun way to meet new bloggers.  And get a present.  I'm excited to meet new people.
So I've been spending some time checking out the blogger I'm supposed to send a package to and I've already got some good ideas.  And then I remember the limit of money I can spend, and I get all flustered.  I'm not good at following rules.  Ugh.
But I thought if I was doing some blog stalking, you'd like to also.  My person is Lacey from Little Miss Nerd Girl.  And she's a red head who loves to read.  It's a match made in book heaven. 
I'll share my package before I send it–and gladly take suggestions if you come up with one!