I have an uncle I haven't spoken to in eighteen years.  There was a family disagreement during a holiday visit and he just stopped coming around.  I've seen him exactly three times since then and he refused to acknowledge my parents, me, or my siblings each time.  Sometimes I'm still shocked that there are people that live like that.  That just walk away one day and don't look back.
I would like to say that's the only time that's happened, but it's not.  I had a friend make the decision that our friendship was over after I said something that made her mad.  Fourteen years of friendship, real, beautiful friendship down the drain because I hurt her feelings.  And instead of talking about it, she just stopped being my friend.  That doesn't sit well with me.  I've tried on more than one occasion to fix our relationship, but she's made it apparent that she's not over it.  I feel sorry for her–that she lives in a world where she can hold on to that kind of anger.  What an exhausting life she must lead. 
It's the same way for Grace, the main character in A Field Guide to Burying Your Parents by Liza Palmer. 
Grace's mom died unexpectedly five years ago.  And instead of sticking around to deal with the pain her three siblings and her were going through, she fled.  Leaving her boyfriend, family, apartment, and life, she cut all ties and started a new life where she thought ignoring the past would make it hurt less.
And that worked for a while, but one day she gets a call from her sister.  Their father, who (ironically) walked out of them and their mother 22 years before, is dying.  And he's got some major surprises for them.  But the stroke has left him on his death bed and Grace needs to come home now.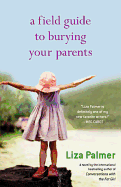 When she finally returns, there's a mess waiting for her.  Family members, an ex-boyfriend, memories, and a dying father that she thought she hated.
This book is about forgiveness.  It's about trying to find your way, making a mess of things, and then still being welcomed back.  Grace thought running away would solve all her problems, but what she really needed to do was just come home.
I liked Palmer's writing style and am looking forward to picking up her other books.  Apparently she's written a book called Conversations with a Fat Girl and I feel that one calling my name.
(Random side note: I bought this book and Not Becoming My Mother during the same Barnes and Noble trip.  I'm sure I looked like someone in need of a therapist for my parent issues.  It's not my fault they both just happened to be on sale and I love a sale.  I did feel a little self-conscious during check out though.)