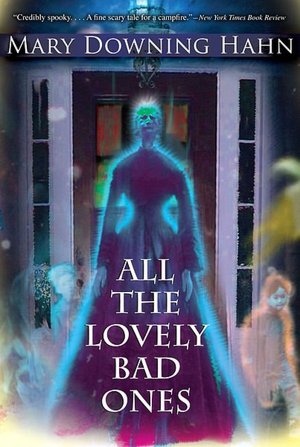 I'm pretty loyal to certain genres of literature, but I know that for my students I need to vary my choices a little more.  So in an effort to branch out, I read All the Lovely Bad Ones by Mary Downing Hahn.  She's a former children's librarian who now writes ghost stories.  And I know this book will be a big hit with my students because everytime a scary movie hits theaters, it's all they talk about.  Kids love to be scared and this book will become a popular read in my classroom, I'm sure.
Travis and his sister, Corey, are troublemakers who get sent away each summer to camp.  But after last summer, they've been banned from camp so they head to Grandma's house.  It just so happens that Grandma's house is a bed-and-breakfast in Vermont with a history of ghost sightings. 
Travis and Corey take advantage of guests who come in search of spirits, but things quickly get out of hand when their pranks stir up the real ghosts.  In their quest to rid the house once and for all of the spirits, Travis and Corey learn about the house's horrible history and what took place generations ago.
This book is a lower-level read that is fast-paced enough to keep kids engaged.  The narrator is Travis, but it would be a good fit for either sex.  Any kid who loves a good ghost story will enjoy All the Lovely Bad Ones.