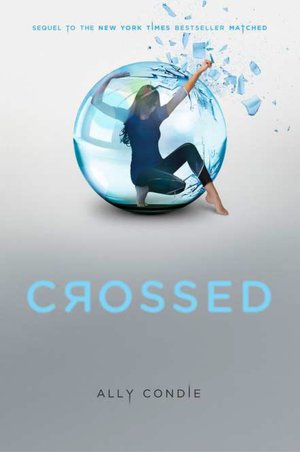 Crossed by Ally Condie is the second book in the Matched series. (Read the first book's review here.)  I loved the first book a lot.  A lot.  So I might have set this book up so much in my head that it couldn't live up to the hype.  I tend to do that.
Switching back and forth between Cassia's point of view and Ky's, Crossed follows the two as they try to survive in a Society they don't trust.  Living in the Outer Provinces at a work camp, Cassia escapes to find Ky.  But before leaving, Xanders comes to find her.  And he has secrets of his own that might change everything for Cassia.  If only she could see past her thoughts of Ky.
While Ky risks his life to get away from the Society, Cassia might just be drawing him back in.  As they race to find each other in time, truths emerge that change the game.
I like this book–not as much as the original–but it was still enjoyable.  I felt at times it just went on and on with no real focus.  There was so much wandering in the desert that I felt it would never end, that they would never find each other.  And then when they did, it was very short lived.
I liked Matched for the love story (I've said before, I'm a sucker for a love story) and there was less of that in Crossed.  I feel like this book was just a set up for the last one as opposed to a good book on its own.  It makes me anxious for the last book (it doesn't come out until November) to see how it ends–who does Cassia end up with?  She's still matched with Xander, does that stay?  Will Ky ever be allowed back into the Society?  Who will win the war?
Crossed left more questions than answers, but I'm still looking forward to the last book in this series.