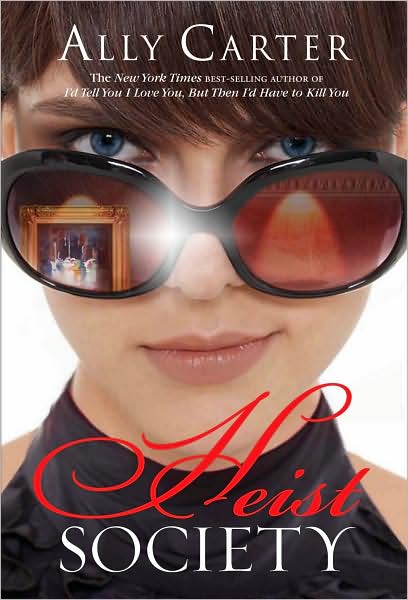 Teenager Katarina Bishop tried to leave her family's shady past behind when she scammed her way into the United State's top boarding school.  But after being dragged back into the family business, Kat must put herself on the line to save her father from an evil art collector.
Heist Society by Ally Carter is a young adult novel that has an Ocean's Eleven feel to it.  Except Kat is still a teenager as are all of the members of her heist team.
Kat grew up with parents, uncles, grandparents, and cousins who were all art thieves.  She took part in her first "job" at three and hasn't looked back.  She travels all around the world stealing precious artwork and selling it on the black market.  But Kat has tired of that life and finally has a chance to be "normal" at a boarding school where no one knows of her past.  But when things go bad there, she's throw back into a job that has a lot more on the line than ever before.
With the help of Hale, a billionaire's son, and their team of kid specialists, they plan, in a matter of days, a heist that will either make them infamous or inmates.  Throw in a bad guy, family members that are turning on her, and a possible love triangle, and this quick-reading YA novel will be loved by most middle level students.  I wish I was still in school so that I could book talk this one.  My students, both girls and boys, would love this suspenseful novel where smarts and cunning are used, just once, for good and not evil.
This book is the first in a series featuring Kat and her team.  It has also been optioned for a movie that is rumored to be directed by Drew Barrymore.  It's not being filmed currently, but I'll be one of the first to see it.  Bringing this action-packed novel to life sounds like all kinds of fun.