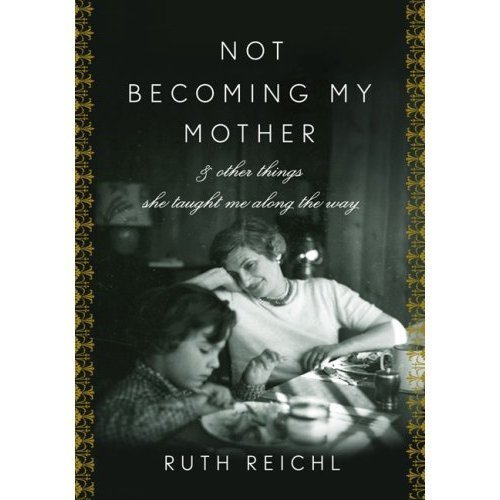 You'd think reading a book entitled Not Becoming My Mother (and other things she taught me along the way) would be cruel.  And when I first picked up this book (on the sale table at Barnes and Noble on this date night), I thought I could never read this because if my mom saw it, she'd be hurt.  But then I read the inside cover and had to have it.
Not Becoming My Mother by Ruth Reichl is about every daughter's struggle.  I think it's universal that we question our mothers.  Who they really are, who they really were before us, what they taught us, and what they became.  And I don't think it's disrespectful to ask those questions.  As a mother of two daughters, I know without a doubt that I will always want my daughters to be better than me, to question how I did things and make them better.  I want my daughters to be smarter, more patient, more loving, more caring, more self-assured, more confident, more traveled, more loved.  And that doesn't make me a bad mom or my mother inadequate, it's just what moms do.  They just hope for better for those they love.
For Reichl, she didn't truly know her mom until she had passed away.  It was through letters and notes that her mom's true self came through.  At one point, Reichl says, "Like most women, I decided who my mother was long ago, sometime during childhood."  And it wasn't until after her death that Reichl could truly see her mother for what she really was: a manic depressive, a failure in her parents' eyes, a twice married woman who never wanted to be married in the first place, a bored housewife who hated housework, and a mother who felt unworthy. 
Once Reichl started to come to terms with all these things her mother hadn't been, she could see the beauty in what her mother was.  She could see what her mother had done for her.  All the lessons she taught her, all the freedom she had given her, all the passion she has passed on. 
My [Reichl's] grandmother has tried to turn her daughter into a carbon copy of herself.  That had not worked out well.  And so my mother did the opposite: Instead of holding herself up as a model to be emulated, she led by negative example, repeating "I am a failure" over and over, as if it were a mantra.  "I am ridiculous.  Don't be like me.  Don't be like me."
I can hardly imagine how excruciating that must have been.  Parents uearn for their children's respect; most of us want it more than anything else on earth.  And yet my mother deliberately sabotaged my respect and emphasized her failing.  She loved me enough to make me love her less.  She wanted to make sure that I would not follow in her footsteps. 
It was an enormous sacrafice.  She made it willingly.  And I never even thanked her.
from Not Becoming My Mother by Ruth Reichl, pgs. 82-83
This book is a quick read, 112 pages that can easily be read in one sitting.  But it's emotional and hard.  To see a daughter come to love her mother after years of strain is beautiful.  But I could only take it in small doses.  It feels like you're eavesdropping on a very private conversation.
Not becoming My Mother is a love letter.  I'm just sad her mother never got to read it.
P.S. This book, now being printed in paperback, has been retitled
For You, Mom.  Finally
.  Probably for the same reason I almost didn't buy this book, that the title didn't make it sound right.  Here's
the article
that discusses the title change.