So here's what's happened: I started reading Fifty Shades of Grey on Wednesday night before bed.  And I haven't really stopped.  I just finished the second book this afternoon.  I  am going to try and hold off on the third one, but chances are I'll start that one tomorrow.  Or tonight.
I was so distracted that I couldn't write about any of the books I have stacked on my desk for Friday's Weekend Read.  I'm getting a little behind, but was too caught up in a kinky sex book to write anything.  Truth. 
But now I feel guilty and so I'm sharing a book suggestion on a Monday night.  I am such a rebel.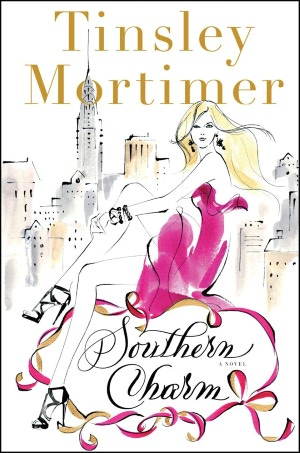 I would describe Southern Charm by Tinsley Mortimer (is that a real name??) as a mix between Sweet Home Alabama and The Devil Wears Prada.  Very much chick lit.  Very much a lazy summer pool read.
Minty Davenport graduates college and heads to the big city (The Big City, NYC) with dreams of becoming a clothing designer.  Well, of course, New York hasn't seen anything like Minty with her southern charm, her loud, colorful clothing, and her cute accent.  She gets in with all the rich and famous quit easily (and quickly).
There's a mean boss, a seemingly-perfect boyfriend, Page Six gossip, and a former flame causing trouble for sweet little Minty.  It's all very fluffy and cute. 
One of the reviews on the back of the book described it as "a modern-day fashion fairy tale."  I think it was just a little too sweet for me.  I would have loved this book ten years ago.  And after finishing it, I would have planned my next trip to New York City.  But now I'm 30 years old and a little jaded.  While the book doesn't have a happy ending with all loose ends tied up, I thought it was just too predictable.  There was no challenge to it.
I guess I knew from the cover that this wasn't going to be heavy reading, but I feel like Mortimer could have done more with this story, but instead she just went the way hundreds of authors have gone before.  Too bad.